In the ever-evolving world of digital marketing, staying ahead of the curve is vital. As we step into 2024, small businesses around the world are increasingly recognising the importance of Search Engine Optimisation (SEO) in unlocking their web potential. This blog delves into the top five SEO tactics that are essential for businesses looking to enhance their online visibility and attract more customers.
1. Keyword Research: Your Pathway to Visibility
Keyword research remains the cornerstone of effective SEO. In 2024, it's not just about finding the most searched terms; it's about understanding the intent behind these searches. Tools like Google's Keyword Planner, Ahrefs, and SEMrush have become more sophisticated, offering deeper insights into search trends and user behavior.
Key Strategies:
Long-Tail Keywords: Focus on long-tail keywords. These are less competitive and more specific, often leading to higher conversion rates.
Search Intent: Align your content with user intent – informational, navigational, transactional, or commercial investigation.
Competitor Analysis: Regularly analyze what keywords your competitors are ranking for. This can offer new keyword opportunities for your business.
2. Website Optimisation: The Foundation of Your Online Presence
A well-optimised website is crucial for both user experience and search engine rankings. In 2024, website optimization encompasses several key elements:
Mobile-First Indexing: With the majority of searches occurring on mobile devices, Google's mobile-first indexing is a game-changer. Ensure your site is responsive and mobile-friendly.
Site Speed: A fast-loading website is a must. Utilize tools like Google PageSpeed Insights to identify and fix slowing factors.
User Experience (UX): Prioritize navigation ease, clear CTA (Call to Action) buttons, and a clean design. An intuitive UX keeps users engaged and reduces bounce rates.
3. Content Strategy: Engaging and Informative
Content is the lifeblood of your website. In 2024, content strategy goes beyond just incorporating keywords.
Quality Over Quantity: Prioritize well-researched, original, and informative content. Quality content enhances user engagement and encourages backlinking, which improves SEO.
Regular Updates: Keep your content fresh and up-to-date. Regular blog posts, articles, and updates signal to search engines that your site is relevant.
Multimedia Integration: Incorporate varied content forms like videos, infographics, and podcasts. This not only enhances user engagement but also caters to different audience preferences.
4. Local SEO: Connect with Your Community
For small businesses, local SEO is invaluable. It's about optimizing your online presence to attract more business from relevant local searches.
Google My Business (GMB): Optimise your GMB profile. Regularly update your business information, post updates, and respond to reviews.
Local Keywords: Incorporate local keywords into your website. Mention your city, region, or local landmarks in your content.
Local Link Building: Engage with local communities and directories. Local backlinks boost your local search visibility.
5. Link Building: Building Your Web Authority
Backlinks are a vote of confidence from one site to another. In 2024, link building should focus on quality over quantity.
Guest Blogging: Contribute to reputable sites in your industry. This not only provides backlinks but also positions you as an industry expert.
Broken Link Building: Identify broken links on relevant websites and offer your content as a replacement.
Skyscraper Technique: Find top-performing content in your niche, create something better, and reach out to those who linked to the original content.
Conclusion
SEO in 2024 is multifaceted, requiring a strategic approach. By focusing on these top five tactics – keyword research, website optimisation, content strategy, local SEO, and link building – small businesses can significantly enhance their online presence. It's about understanding the nuances of digital trends and user behaviors and effectively adapting your strategies to meet these evolving demands.
As you integrate these tactics, remember that SEO is a marathon, not a sprint. It takes time, effort, and consistency to see results. But by staying informed and adaptable, small businesses can indeed unlock their full web potential, reaching new heights in the digital landscape.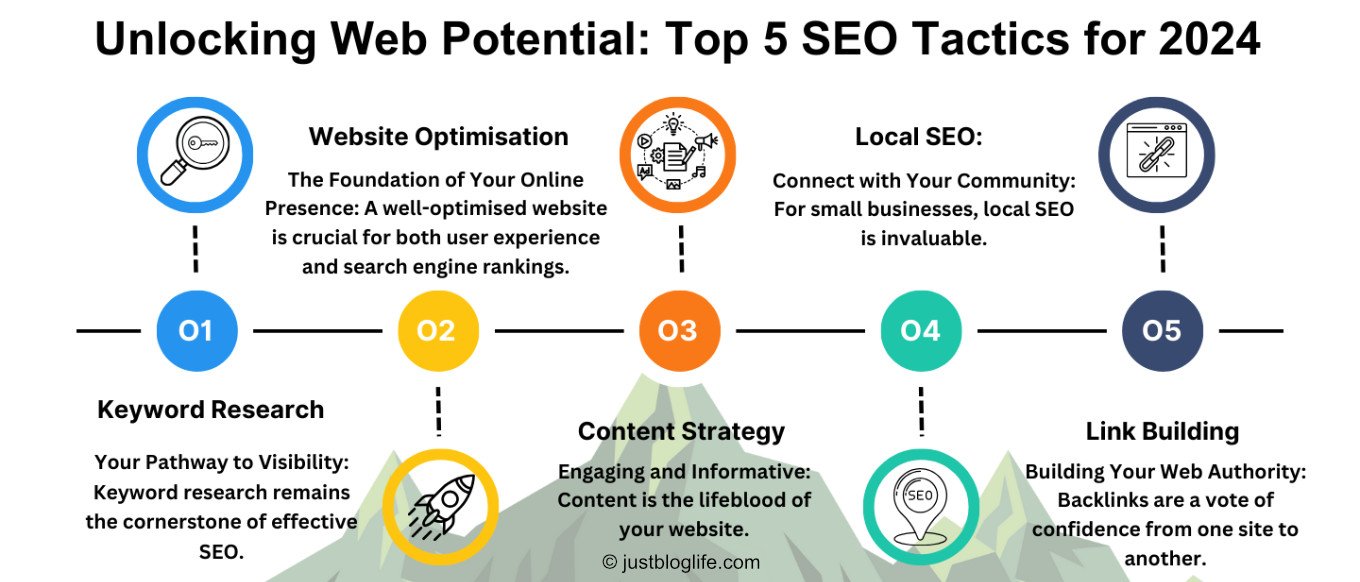 Written by Paul @ Just Blog Life