I finally got out for a bit of Solo Wild Camping in Brecon Beacons the other weekend. Unfortunately due to covid 19 and the lockdown I had to delay. Having purchased a range of new kit, which is listed at the end of this article. I was desperate to get out and try it out. You know that feeling when you just treated yourself to something new and need to try it out NOW! OK, so I had tried it out in the garden but it just wasn't the same as having a mini adventure in my local mountain range the Brecon Beacons.
The time was right…
I took a week off work, which we had been encouraged to do due to the current lockdown circumstance and it was much needed. The aim was to complete a massive list of jobs around the house with most involving decorating rooms. Oh and that fence – that bloody fence. Having got to the end of the week and completed most of the jobs I decided to give the last big job a miss and head to the hills. Although I'd completed a range of jobs around the house I didn't feel like I'd had done anything for me. I felt that getting out for a wild camp would just give me that little extra sense of achievement as well as a little excitement and downtime.
Where would I go…
After a little bit of head-scratching, I made the decision to head to a small area called Penwyllt. This is an area of the Brecon Beacons which is just a 20-minute drive from my home. It's a former quarrying village, quicklime, and silica brick production centre. It's known for being a wildlife reserve, the caving centre as well as the train station. I know it well as I've hiked there regularly over the years and camped there with friends in the past. I planned a route using Google maps (shown below) and took a screenshot just in case there was no mobile phone signal as it can get patchy in that area.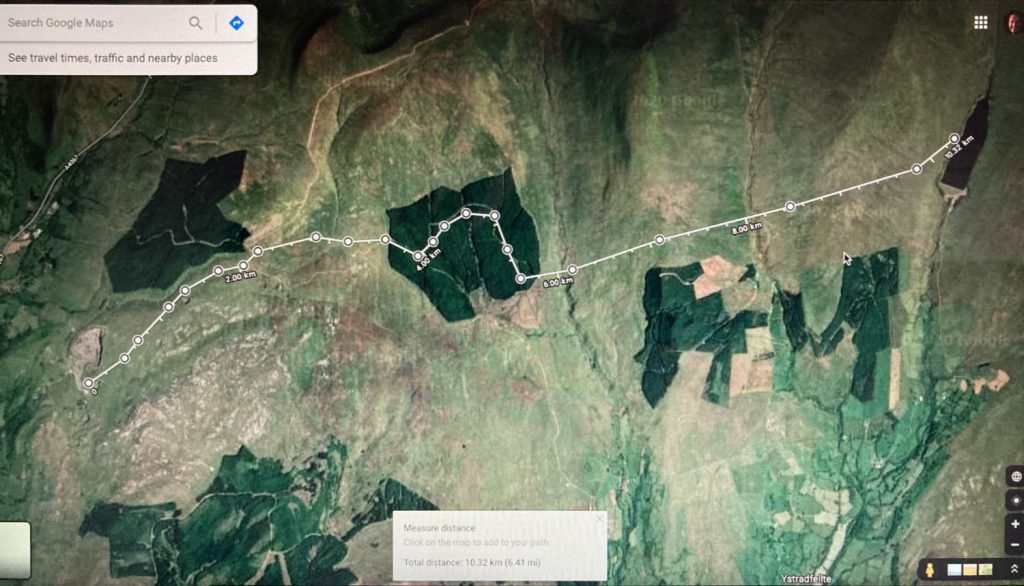 What was my plan…
The plan of action was to hike to Ystradfellte Reservoir. I'd worked out this was around a 12-mile hike there and back. I gave myself two and a half hours to get there. My plan was to pitch the tent at 9pm and then to get the burgers on to eat around 9:30pm. I also wanted to be flexible and to live in the moment and just see how it went, so decided to leave the house at 6pm and start the hike at 6:30pm.
Yippee I had arrived…
I parked up at the nature reserve put my rucksack on and started on my way up my usual path. It was a gorgeous evening with the sun shining bright. After walking for about 20 minutes I decided to take a different route. It took me on a higher path which was a direct route to the area I wanted to explore. I followed the edge of an old wall, which eventually led me to a path. I could see the familiar layout of the land so I knew I was going in the right direction.
As I started following this path I realised it formed part of "Beacons Way". This is an iconic walk that takes you to some of the best views in the Brecon Beacons National Park. In total it's a 159km (99mile) long walk that would take eight days to complete. Maybe not tonight though as I only had a burger together with a nice hot chocolate on my mind.
So, at this point, I'm about an hour and a half into my hike and yet again decided to take a little wander off the path. I did this as it was going in a slightly different direction. I headed up a slight incline towards the top of a hill that appeared to offer the perfect viewing point and it did. The views were incredible and as I looked down there it was, like an Oasis the perfect spot to pitch the tent.
I pitched the tent in just 10 minutes…
Less than 2 hours into my hike I pitched the tent and managed to do this in just 10 minutes, although the tent was new. Just 4 minutes longer than I'd seen on the YouTube video. I'm sure with a little practice I'd get a quicker time. I set up the sleeping quarters by blowing up the sleeping pad and pillow and took the Trangia stove out of the bag to get started on the food.
It was the first time I'd used the Trangia other than testing it at home and it lit easily and bloomed quickly. The burgers were on and done in next to no time and what a great experience scoffing them down with such lovely views. Next up was the hot chocolate, so I could sit out and watch the sun go down and I wasn't disappointed.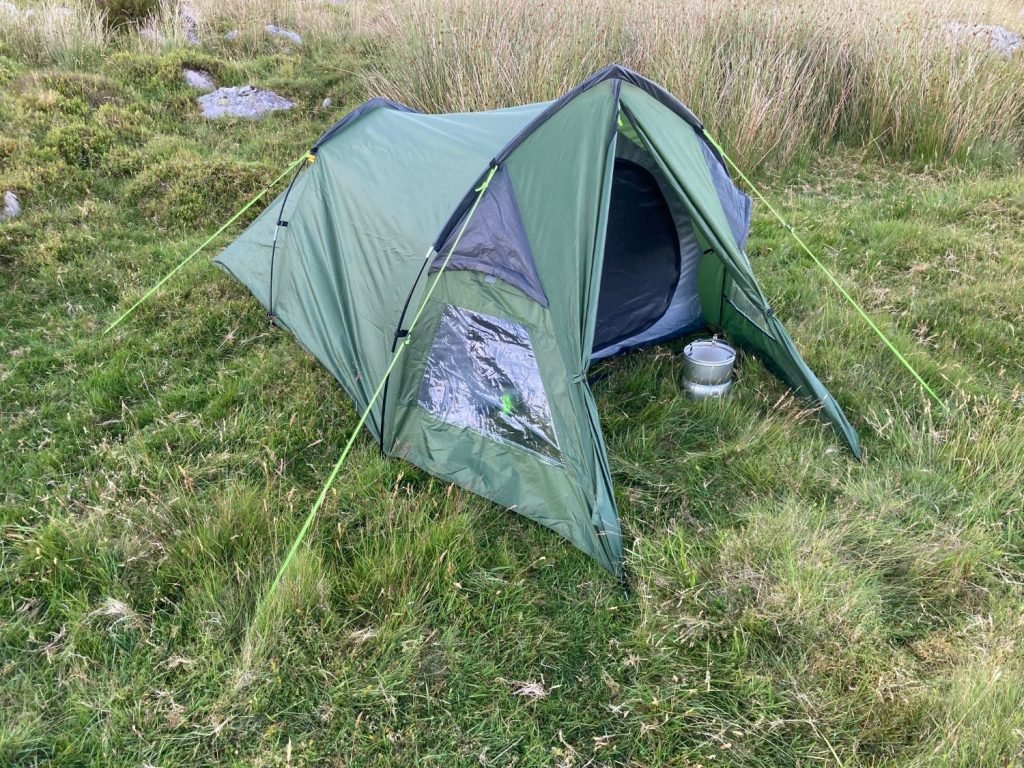 The best night sleep…
I can be a light sleeper at times and I suppose you don't really expect to get a great night's sleep whilst camping. Getting into the sleeping bag around 9:45 I decided to read for a bit as I had my kindle with me. I couldn't believe how quiet it was except for a sheep munching grass by the side of the tent. In just 15 minutes and I was out cold and had a great night's sleep.
The morning sunrise…
I woke up at 5:20am and opened the tent to the start of a beautiful sunrise together with the fresh mountain air. It was an absolutely stunning view, so calm and topped off with a beautiful sunrise. Don't just take my word for it have a look at the photos below and in the gallery. Out came the trangia to heat up some water for my little treat of a hot chocolate and some contemplation.
Time to go…
I packed up to get an early start on the hike back. It didn't take too long to put everything away and clean up the area. The aim of any wild camp is to make sure you leave the area as though you hadn't been there. I started to make my way down the hill and roughly in the direction I needed to go. It took just 50 minutes to get back to the car, which I originally thought would take 2 hours. It's amazing that every-time I walk in this area I find different routes.
I would recommend wild camping to anyone or at least hiking to see the sunset. Such an incredibly calming experience and one I'll be doing a bit more often especially in the summer months. If you have a solo camping experience to share in the Brecon Beacons why not drop me a message.
My Kit List
Vango 60 Litre Ruck Sack
Eurohike Backpacker DLX 2 Man Tent
Eurohike Adventure 200 2 Season Sleeping Bag
Trekology UL Inflatable Sleeping Pad
Trekology Inflatable Pillow
Trangia 27 Cookset and Burner
3 Litres of Drinking Water
Thermal Trousers for bedtime
A clean set of clothes
Toothbrush and Toothpaste
Woolly Hat
Headtorch & Spare Small torch
Waterproofs (it is Wales you know)
Down Jacket
Food for the Evening